Blimp photography offers amazing aerial views of properties, showcasing the property in the foreground yet providing aerial views of the surrounding neighbourhood. Able to ascend to 120m (400 ft) on a tether line, the blimp photographer can move almost anywhere to get the best perspective. We have jumped fences, ventured down alleyways, stood at the end of docks, and yes, jumped on boats and shot from the middle of waterways. All in the name of getting that winning 'hero' shot.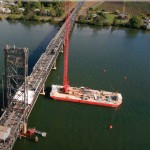 One interesting project we did recently was for the NSW Road Traffic Authority. They were replacing and rejuvenating many parts on the drawbridge mechanism of Harwood Bridge between Ballina and Grafton, NSW. We went on-site several times to capture the action of the work barge, and installation of replacement top pulleys. It was a huge project and the RTA wanted documentation for its history books. We were delighted to learn that one of our aerial photos graced the cover of the NSW RTA 2010 Annual Report! Click the thumbnail to see the front cover. The picture actually wrapped around to the back cover as well.
Click here for more blimp photography in Queensland and NSW.
——————-
The Stonemaster Quarry Team wish to extend their appreciation for the aerial shoot Blimpworx has provided them.  The digital photos have become an invaluable tool in our day to day business, assisting us with the onward development of the quarry and even for the tasks we didn't initially think of, like overlaying the photos with the location of safety devices (fire extinguishers, first aid kits, muster points), cable layouts, and traffic management.  Your aerial photos have become an integral part of the way we do business.  Thanks again!
Dani Manderson, Quarries Management Support, Fulton Hogan